Asian Granito India Ltd inaugurates AGL Export House at Morbi to boost exports
Export House has an exclusive and elegant range of tiles, engineered marble, quartz and Sanitaryware & Bathware range on the display under one roof.
Showcasing the company's production and technological excellence at one place, Asian Granito India Ltd, one of India's leading tiles companies, has inaugurated a 15,000 sq ft display showroom, AGL Export House, at Wankaner in Morbi (Gujarat).
The export house will have the entire range of tiles, Sanitaryware, and bathware range including 3000 plus products in all sizes, designs, and finishes at one place for the trade partners across the globe and aims to strengthen its presence in international markets. Company currently exports to 100 plus countries and aims to expand the export network.
This will be one of the biggest showrooms of the company in the country's biggest tiles cluster of Morbi. The showroom will have an exclusive and elegant range of products including, ceramic floor, digital wall, vitrified, parking, porcelain, glazed vitrified, outdoor, natural marble, composite marble & Quartz, etc under one roof. The showroom will also house the recently launched Sanitaryware and bathware range including faucets.
Kamlesh Patel, Chairman and Managing Director, Asian Granito India Ltd, said, "We are pleased to inaugurate this showroom on the birth anniversary of Father of the Nation, Gandhiji. Trusted for reliability, adaptability, innovation our company has created a strong brand identity for Make in India products and able to achieve global recognition with exports to 100 plus countries. Morbi is India's hub for ceramic tiles & sanitaryware accounting for more than 70% of the country's total production with over 1000 manufacturing units in the zone. Trade partners and business communities across the globe regularly visit here for the business and trade and hence it was evident for us to have our presence here. This display showroom will have the entire product range with evolving customer preferences under one roof and showcase our products and technological excellence to customers across the globe."
Gujarat has emerged as one of the major hubs globally for ceramic products. The state contributes more than 80% of the country's ceramic output with an annual turnover in excess of Rs. 40,000 crore and over Rs. 12,000 crore in exports.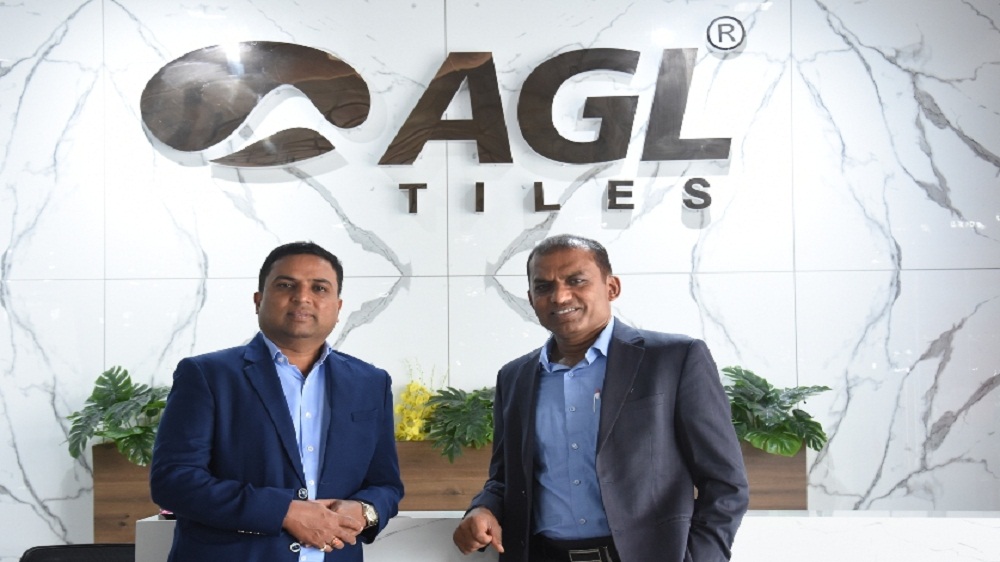 Mukesh Patel, Managing Director, Asian Granito India Ltd, stated, "Asian Granito is the largest exporter among organised players from India. Company currently exports to 100 plus countries and looking to expand its international presence. The company is also committed to Housing For All, Swachh Bharat, and Rural development. With a focus on Vocal for Local, the company has recently launched "ATMANIRBHAR PROGRAM'. Through this initiative, AGL aims to strengthen its connection with rural and semi-urban markets, reduce marketing costs, generate more employment opportunities in rural India, and connect the rural youth in the growth journey of the company. The pilot project was launched in Idar and Bhavnagar in Gujarat and the company aims to launch this pan India in the coming time."
Prafulla Gattani, Executive Director, AGL Global Trade Pvt Ltd, added, "Despite challenges of COVID, demand from international markets have remained strong and injected fresh blood in the Indian ceramic industry. Exports during the past three months have doubled and are constantly increasing due to the ongoing spat between the USA and China. Anti-China sentiments and reduction in the gas prices are likely to be game-changer for the Indian ceramic industry from an export perspective."
National Brand with over 6,700 touch points & 300 exclusive showrooms in India
In the last 2-3 years, the company has taken various initiatives to increase its retail presence with a vision to become the most preferred tiles brand. The company has expanded its distribution network to 6,700+ touchpoints, including 289+ Franchise-Owned Franchise-Operated (FOFO) showrooms and 13+ Company-Owned Company-Operated (COCO) Display centres. This is a healthy addition of 2,000 touchpoints to the presence of 4,500 touchpoints in FY 2016. The company has been aggressive in strengthening its dealer-distributor network, AGL exclusive showrooms, company display centers as a part of this retail strategy which has gained further momentum post demonetization and GST.
The company had 75 exclusive showrooms in FY 16 which due to the aggressive expansion has reached 289 today. The number is going to see further increase as the company has set a target to reach 500 exclusive showrooms and 10,000 retail touchpoints in the next 2-3 years. The expansion in the retail segment is in line with the vision of the company to have 50% of the sales from the retail segment.
Earlier, the firm used to sell more than 70% of its total revenue to B2B, which is gradually reducing in order to improve its margin and earning. B2B is equally important for AGL but considering the increasing disposable income in India and more and more people opting for branded products, the company has now put more focus on B2C.